About Us
Founded in 1975, the O.K. Boot Corral is situated in Vancouver's oldest brick building in the heart of Vancouver's Gastown - the exact location where Vancouver began in the mid 1800's! The management and staff are experienced in Western and boot lore and know how to properly fit a boot, which differs from any other shoe.
Although boots are the main focus in the store there also is a huge selection of hats, belts, buckles, bolo ties and unique souvenirs from the Old West.
Be sure to visit any of the O.K. Boot Corral's locations if you'd like to step back in time & experience some good ol' Western hospitality!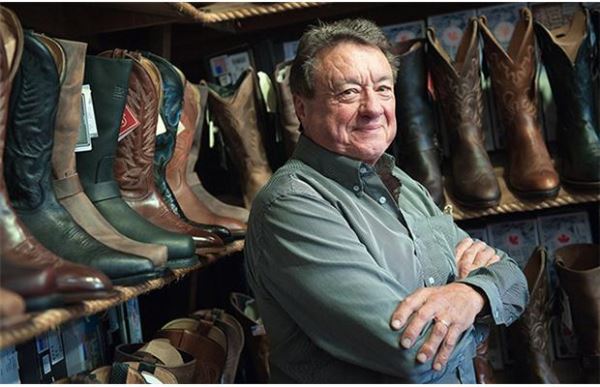 Everett McGowin, Founder
Everett founded the O.K. Boot Corral in 1975 in the oldest brick building in Gastown.
Having a great imagination and sense of humour, Everett filled the store with not only the best quality boots, hats, buckles, and bolo ties, but also a wide variety of Western novelty items including whips, spurs, and even rattlesnake eggs - anything to amuse his customers!
Since Everett's passing in 2015, his wife Linda has continued to keep his legacy alive and even opened additional locations!
Linda McGowin, Owner

Mark Farnworth, Co-Owner of Tsawwassen Location
Bonnie McCauley, Manager

Tony Chisholm, Sales Associate

Neal Hall, Sales Associate
Our Tsawwassen Team Members
Elanne O'Malley, Sales Associate